Vibro-Lab3500
Improved process development – transparent and scalable
Easy to understand and use
The Vibro-Lab3500 reduces the complexity of membrane filtration due to the patented Vibro® technology and Free Flow Plates.
Improved process development
The Vibro-Lab3500 is the ideal equipment for process development and membrane screening. The see-through housing makes it possible to observe all membrane area during process and cleaning.
Easy setup
The reduced complexity with Vibro® filtration makes it simple to setup and connect as the crossflow pump is redundant and cooling not needed.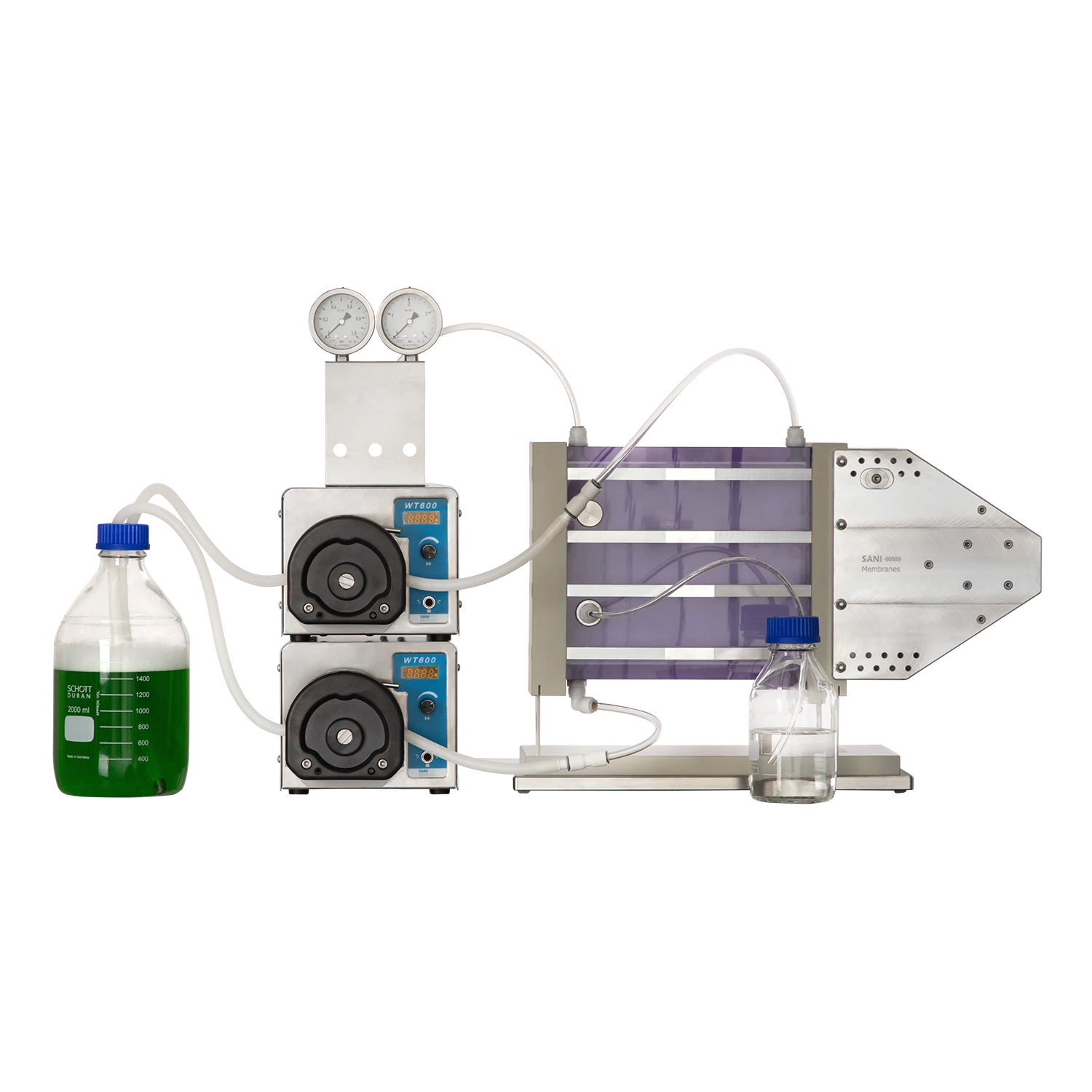 Monitor the filtration process and fouling
The Vibro-Lab3500 is the perfect benchtop filtration solution and ideal for process development and small scale microfiltration and ultrafiltration applications. Thanks to the transparent housing it is easy to visually inspect the membrane and notice if fouling is formed.
Vibro
®

technology makes it all simpler 

Forget about expensive training and long run-in periods. The Vibro® technology reduces the complexity and makes continuous filtration simple to use and easy to understand. It does not require that you are a specialist to run the equipment. With only 3500 cm2 membrane area you can mimic large-scale industrial processes by using down to 2 liter media. The simplicity also reduces the time-to-market and the development costs.
Setup anywhere in a few minutes
Vibro-Lab3500 has a footprint of 51 x 16 cm and is easy to setup and connect. You just need a feed pump and a Vibro-Lab3500. The system is connected by push-in fittings, and it only requires a power socket and an easy connection of tubes to get the continuous filtration processes started. Membranes are replaced in 5 minutes, so you can screen different membranes easily.
Feed pump
The SANI Membranes peristatic pump is ideal together with the Vibro-Lab3500 as an adjustable feed pump in a continues setup (system pressure up to 2 bar pressure) or as a mix flow pump. The cabinet is in stainless-steel and delivers 0-6 l/min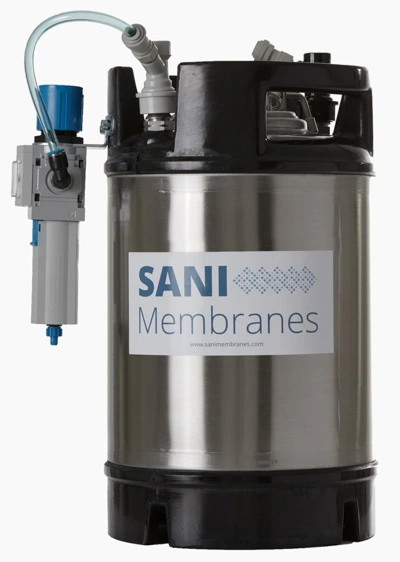 Air Pressure Driven Feed System
SANI Membranes air pressure driven feed system can be used as a feed system for the Vibro-Lab3500 for filtrations with a pressure of 0 to 3 bar and for low volume feeds. The system consists of a 9 liter stainless-steel feed tank w/ pressure regulator, pressure relief valve, fittings, valves and tubing
The HPL Membrane Module for the Vibro-Lab3500 consist of a membrane element and a membrane chamber. Each module can easily be replaced due to the fast membrane module replacement system. The membranes are delivered in a wide range of materials and with a pore size between of 1 kDa to 1 µm.
This equipment package makes it possible to run the Vibro-Lab3500 in most configurations:
1 x manometer including fitting to 6 mm, 1 x manometer stand, 1 x T piece (8 mm, 8 mm & 6 mm), 2 x valve (8 mm – 8 mm), 1 x valve (6 mm – 6 mm), 2 x connection (6 mm – 8 mm), 2 x Vibro® cushion, 2 meter 8 mm tube, 2 meter 6 mm tube.
Request demo
Please fill in your contact information if you are interested in a demonstration trial and we will respond to you soonest possible.
When filling in the data form it is accepted to receive digital communications from SANI Membranes. In order to withdraw to the acceptance, you have to contact info@sanimembranes.com