June 2023
New Product
We are excited to present the Vibro-Lab35S, the first of our new series of devices for sterile applications.
The Vibro-Lab35S shares most of its characteristics with the well-known Vibro-Lab35P; enabling you to do continuous filtration with as little as 50 mL feed, in an easy-to-use system with a footprint of just 20×20 cm.
The new series of Vibro Membrane Filtration (VMF) devices will open up for new segments and applications across biopharma and alternative protein industries. We are excited to present the expansion of the series with the next device being presented later in June.
More information, as well as the release dates on more devices, can be found at Sterile Applications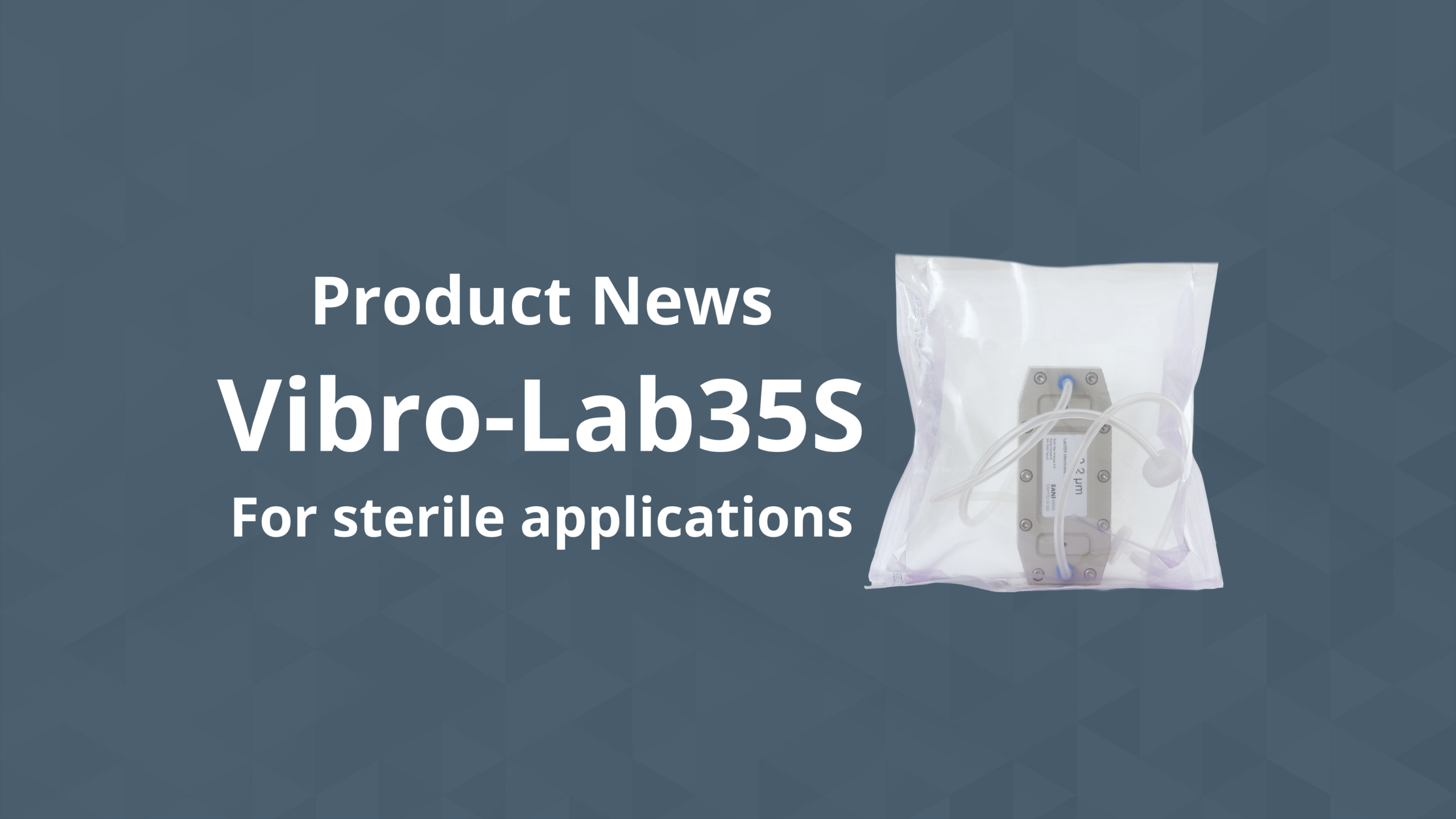 April 2023
New Headquarters
We're excited to share more news and to welcome you to our new headquarters.
We're only moving a couple hundred meters away, but to much bigger facilities that can support our continued growth.
New innovations are already being made in our new laboratory and production facilities, and we're looking forward to sharing more exciting news shortly.
Our new address is Ryttermarken 8, 3520 Farum, Denmark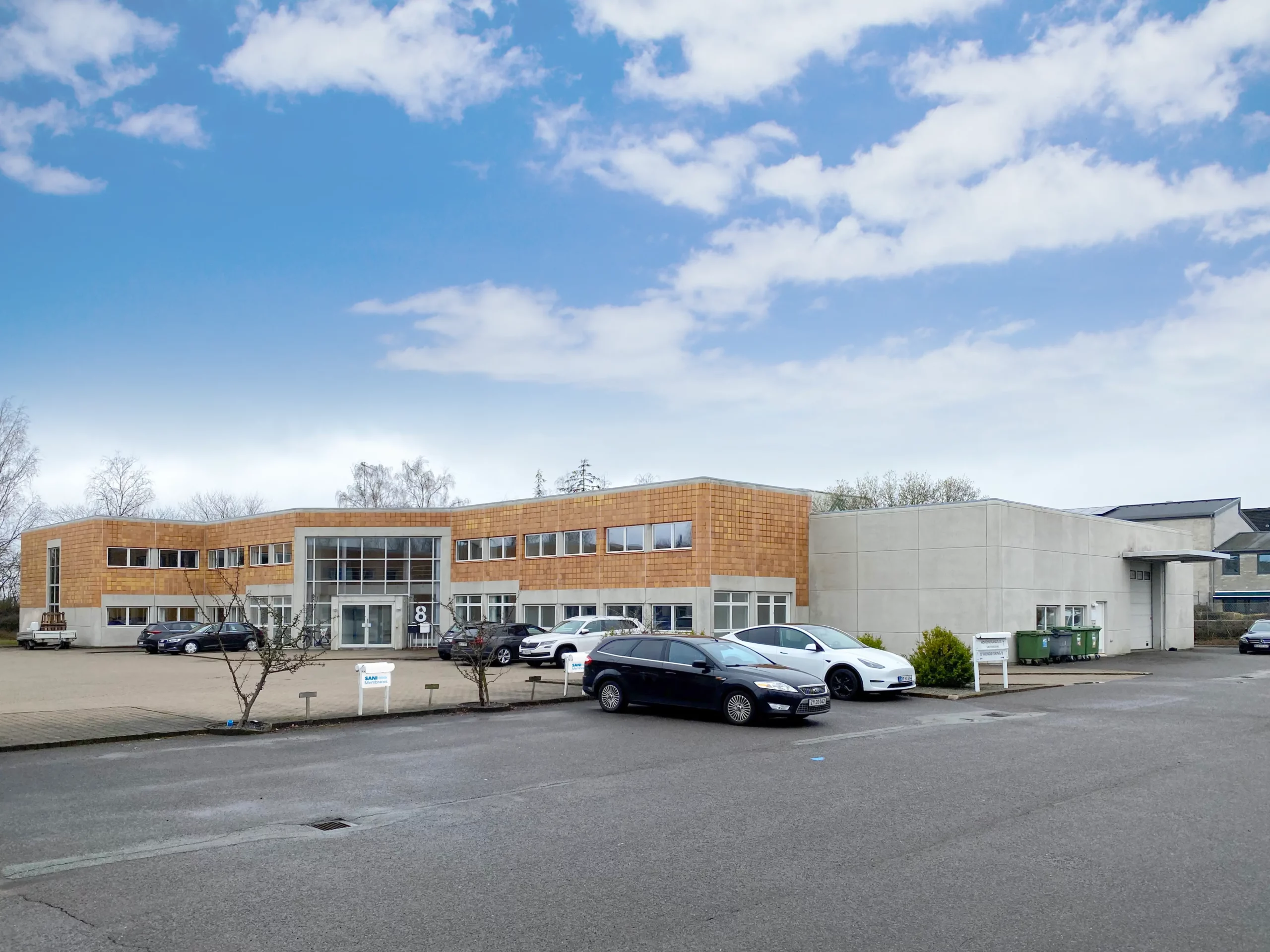 March 2023
Annual report of 2022 has been released
2022 was a defining year for the direction and future of SANI Membranes – Milestones were reached, and records were broken. We're looking forward to another exciting year on our journey.
For the report, 3 effects are highlighted
– New capital was raised, amounting to 40 mil. DKK
– Revenue has increased by a factor 3.6
– Number of employees doubled
The strong results of 2022 further support projections towards a continued high growth rate for Vibro Membrane Filtration (VMF) in the coming years
The full report can be read in Danish at CVR.dk
January 2023
New Capital Secured
After a very successful year in 2022, SANI Membranes have received additional new capital of 5.3 million Euro.
In 2022 we reached many milestones. It was also a year, where we established Vibro® technology as the new standard for membrane filtration in several applications.
Among the highlights, we;
launched several new products;
launched new sizes of our Industrial unit, Vibro-I;
strengthened our position in the biopharma and alternative proteins industries;
and welcomed numerous new employees.
We are excited to share with you what we have planned for 2023, but can already lift the veil for:
Moving to new HQ in Q1
New products will be launched
Products for mAbs and cell & gene therapy on the way
New employees – Where we currently have several open positions
Looking forward to working with you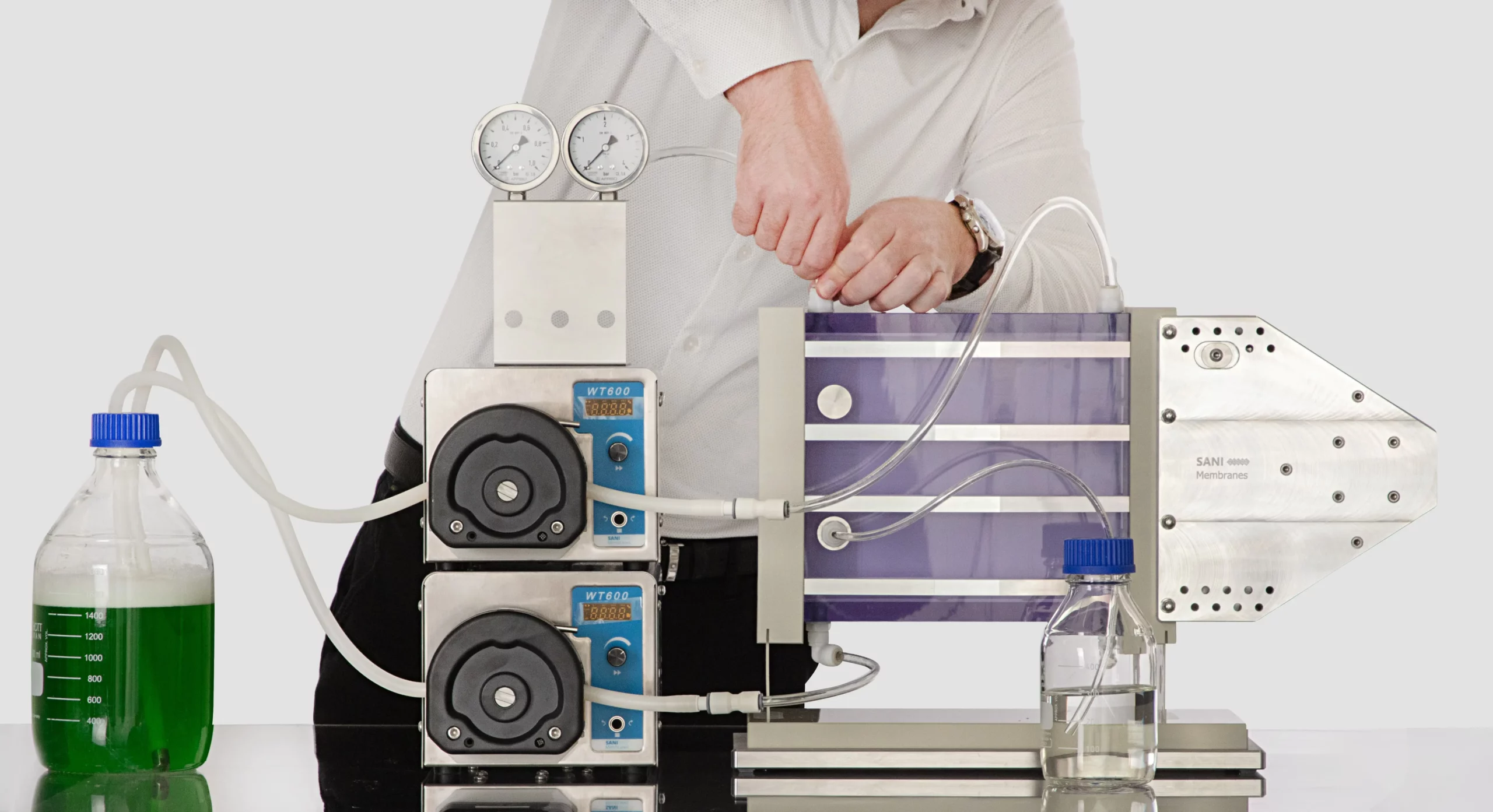 November 2022
New Product
We are proud to present the next step for industrial scale membrane filtration, introducing the new Vibro-I 80 m² unit!
The new Vibro-I unit is the next step in scaling your processes, whether it's separation, clarification, concentration, purification or something different, the Vibro-I can do it all. Same with our other units, our Vibro® technology enables high yields, high recovery, gentle product handling and requires only minimal energy.
CEO and Founder, Henrik Hjelmsmark, says "with the newest addition to our Vibro-I series, we have had to rethink the design to accommodate for the large capacities that we targeted. But our team has worked tirelessly and continues to take membrane filtration to new heights by achieving this important milestone in making Vibro® technology the new industry standard for filtration processes".
When using Vibro® technology, scaling your production has become drastically easier, and takes you all the way from process development to full scale production. Vibro-I units are modular and can be interconnected to give you unlimited capacity. With the introduction of the new size, reaching large scale productions, has become even simpler.
The new Vibro-I unit is already in action in production of biopharmaceuticals, algae and alternative proteins.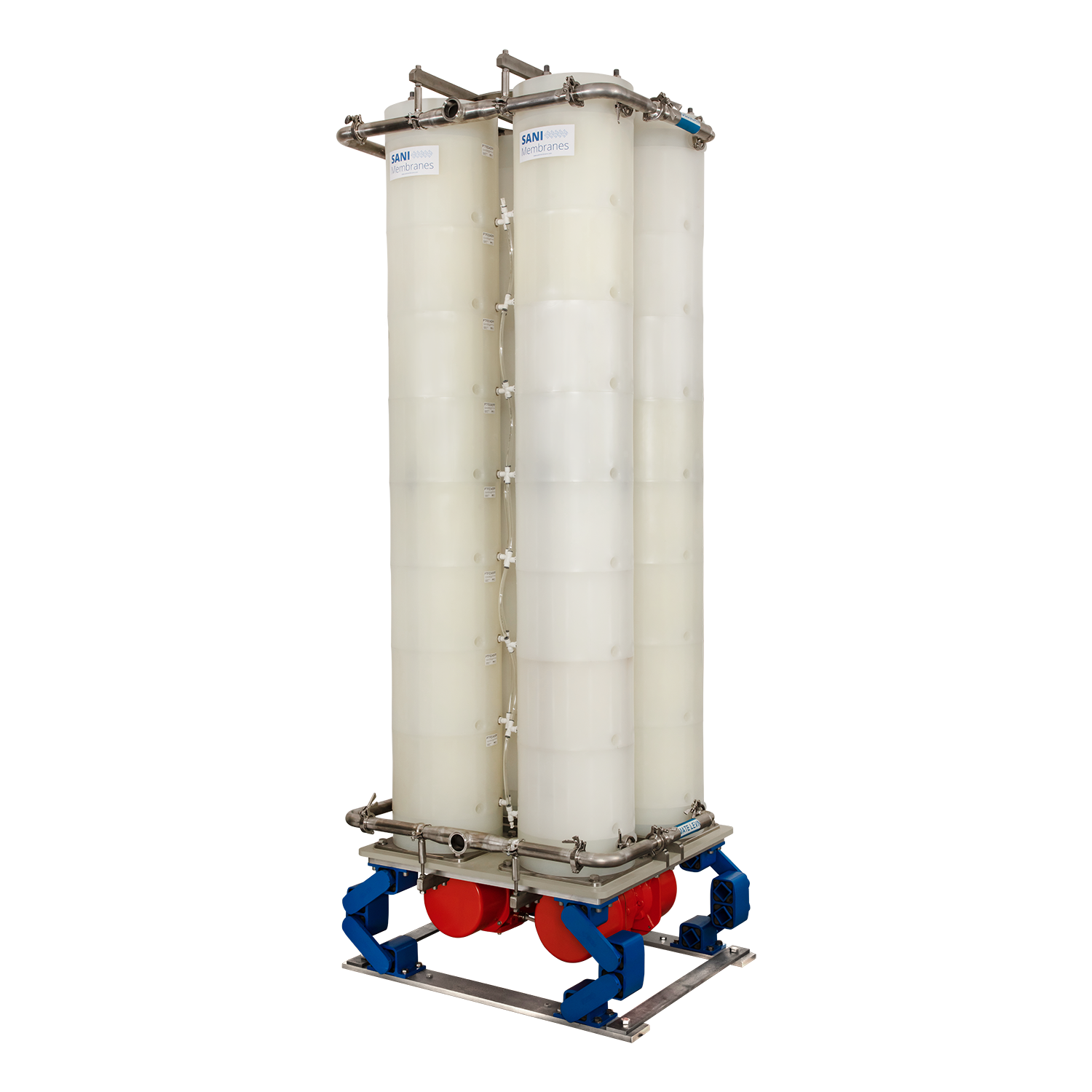 May 2022
New Product
The last touches have been finalized, and we are ready to officially release our newest solution for benchtop filtration, the Vibro-LabEV, along with its unique membrane module, Vibro-Lab280.
Our CEO, Henrik Hjelmsmark, says "The Vibro-LabEV will fill the gab between our small Lab35 and our work-horse, Lab3500. It utilizes all the unique advantages of our technology and adds another level of flexibility as the drive fits membrane modules of different sizes". This means that you can now switch between modules with a membrane surface of either 280 cm² or 2 × 35 cm² using the same unit.
The Vibro-LabEV's filtration process is identical to our larger units, meaning that the Vibro-LabEV is ideal for process development as you can run simulations of large-scale operations on a small unit and you can mimic the scaling process itself on the different membrane modules. Of course, the small footprint of just 30x15cm and its simplicity and user-friendliness also make it the ideal choice for laboratory work.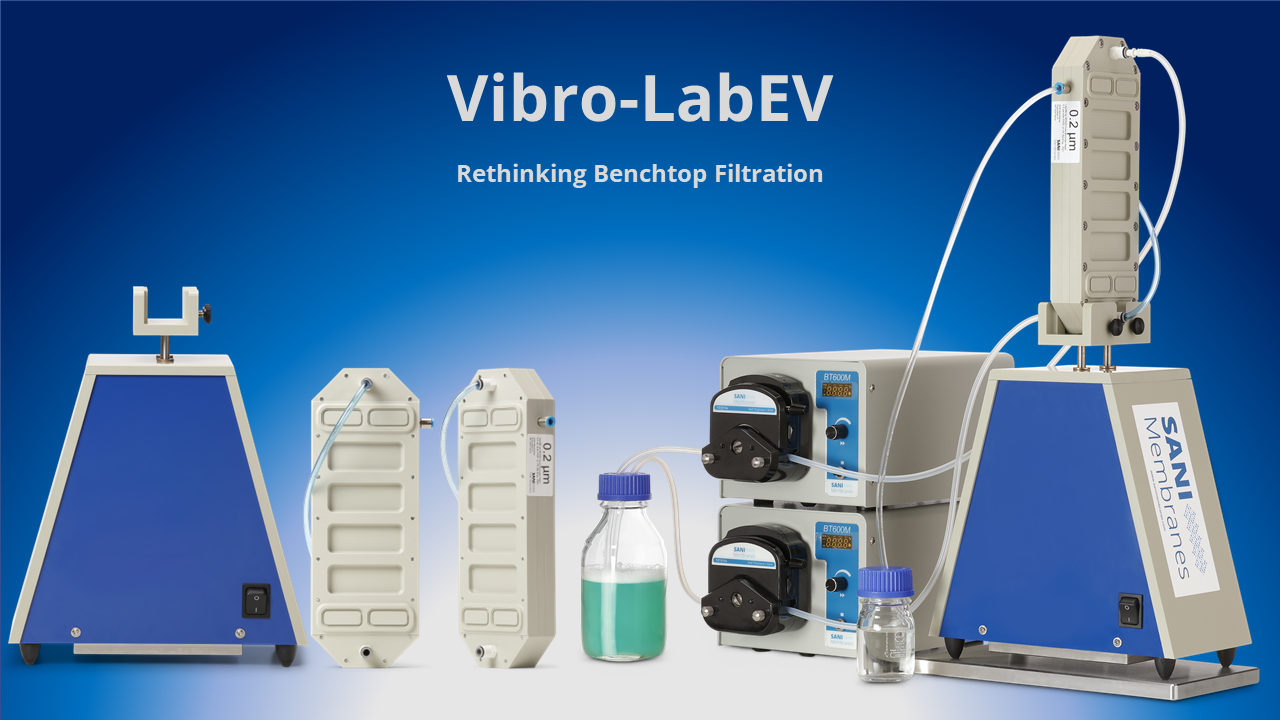 April 2022
New Employees
Following our quick growth, we are pleased to now welcome our 2 more employees that started on the 1st of April.
Robert Schmidt , our new Area Sales Manager, will be reinforcing our Sales Team. He is fluent in Spanish, German and English and brings nearly a decade of sales experience with him.
Ole Flint, our new Product and Application Specialist, bring valuable insight from the process industry and will focus on our continuous product and process development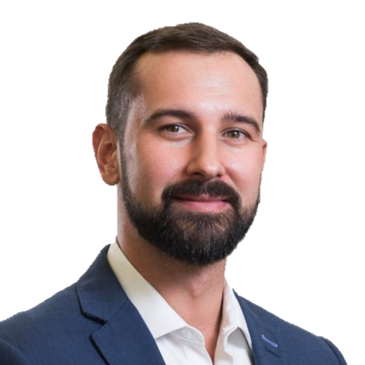 Robert Schmidt
Area Sales Manager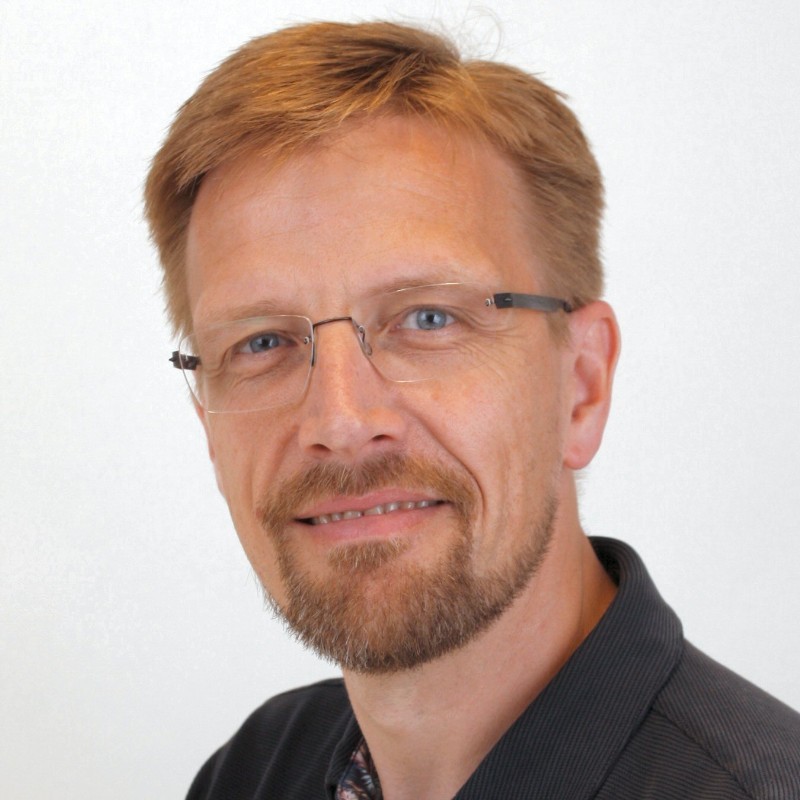 Ole Flint
Product and Application Specialist
March 2022
New Video
Our team took the opportunity in between session at BioProScale Symposium 2022, to do a short presentation of our Vibro-Lab3500, one of our Benchtop Filtration Systems.
The Vibro-Lab3500 is ideal for process development and membrane screening and is easy to setup and use.
Click the image on the right or this link to see the video on YouTube
You can also read more about the Vibro-Lab3500 here.
February 2022
New Employees
After a flying start to the year, we are ready to introduce 3 new employees that have been with us since the start of January.
Henrik Bech-Hansen, our new Senior Application Specialist, will be focusing on Northern Europe.
Magnus Kjær, our new Development Engineer, will be advancing our product development.
Philip Hindsgaul-Nissen, our new Marketing Manager, will handle all marketing activities, as well as supporting our sales team.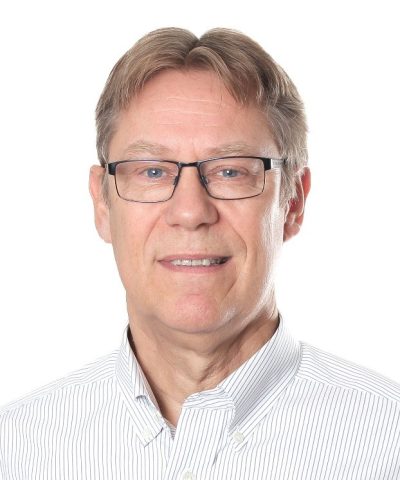 Henrik Bech-Hansen
Senior Application Specialist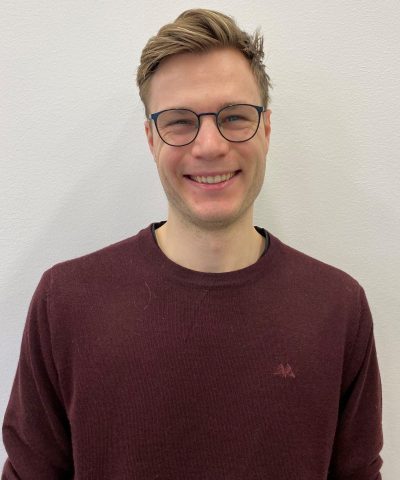 Magnus Kjær
Development Engineer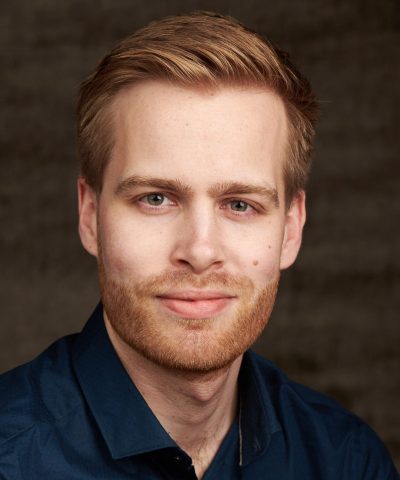 Philip Hindsgaul-Nissen
Marketing Manager
December 2021:
New Capital Secured
SANI Membranes has secured an investment of 3 million Euro that will allow for accelerated growth of the Vibro Membrane Filtration Platform.
We will at the same time change the company to a joint stock company, SANI Membranes A/S.
All in all, 2021 has been a year of great changes:
– We have moved to a larger HQ in Farum, North of Copenhagen,
– New strong owners are onboard
– We have launched a number of new products.
With 3 new employees starting in January (and we are still looking for more), we are ready to grow and get Vibro® Filtration out into the world, reducing energy consumption and improving our customers' separation processes.
CEO Henrik Hjelmsmark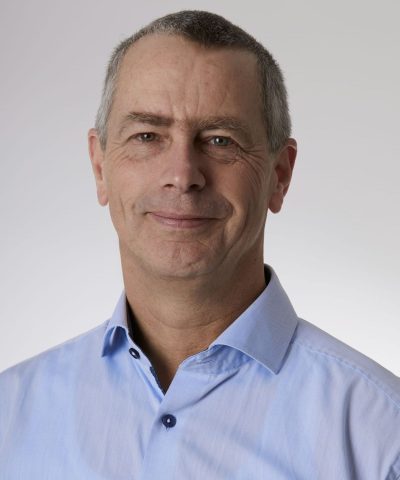 August 2021:
New address with room to grow
We are pleased to announce that SANI Membranes is moving to our new HQ in Farum, north of Copenhagen. Our new facility allows SANI Membranes to continue the expansion as we move into a much larger production and office area.
Our new address is: Rugmarken 31, 3520 Farum.
The move will take place during August and is not expected to affect the lead time for any of our products.
We look forward to inviting you to our new HQ as soon as we are in place.
June 2021:
New product release – Vibro-Lab35P
The Vibro-Lab35P is a continuous membrane filtration unit with a membrane area of 35 cm² and only 8 mL dead volume. The Vibro-Lab35P is based on the same technology as the other products in the Vibro family and therefore data results with the small unit can be used for scaling up to industrial size.
The Vibro-Lab35P can be used for both microfiltration and ultrafiltration and it is the perfect lab development tool for filtration of small volumes.
Read more about the new Vibro-Lab35P unit here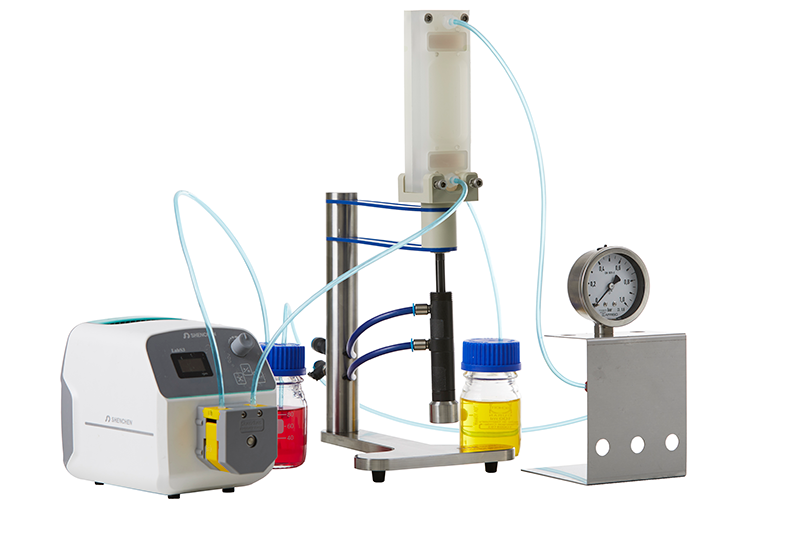 May 2021:
New product release – Vibro-Lab3500
The Vibro-Lab3500 has been designed with a silent drive and an easy membrane replacement system. All other benefits from the previous Vibro-LE model remains and it is possible to upgrade Vibro-LE units to the new version. 
Read more about the new Vibro-Lab3500 here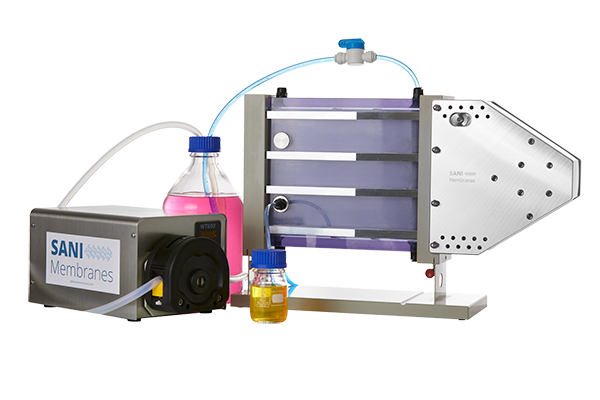 April 2021:
Change in ownership
SANI Membranes ApS now has Martin Glensbjerg as co-owner of the company where he joins the Board. Martin Glensbjerg is one of the original founders of the successful company Chemometec A/S, a worldwide supplier of equipment for laboratories. SANI Membranes has developed a groundbreaking Membrane Filter Technology and products that fit for Laboratories and for industrial production for separation and concentration of media in Biotech, Pharma, Green Proteins and Liquid Foods.
We are proud and happy to have Martin on board, as Martin has extensive experience in building a similar company. At the same time, we have added capital that enables further expansion of the company, says Henrik Hjelmsmark, CEO of SANI Membranes.
I see great opportunities for SANI Membrane's products to make a major difference in terms of faster product development and improved yield within e.g. biotechnology and for new pharmaceutical products based on cell technology. The laboratory filters enable scalable continuous filtration of very small media streams, and as SANI Membrane's industrial filters are using up to 90% less energy than present solutions, it is obvious to get the technology into production in many of the largest companies in Denmark and globally, says Martin Glensbjerg.
SANI Membranes Membrane filters are based on the patented Vibro® Technology that replaces energy-consuming pump solutions. The Vibro® solution enables better filtration and is at the same time simple to use and service. The World Market for purification and separation is enormous and with an increasing focus on energy consumption, there is a need for new solutions, says Henrik Hjelmsmark, who looks forward to the collaboration.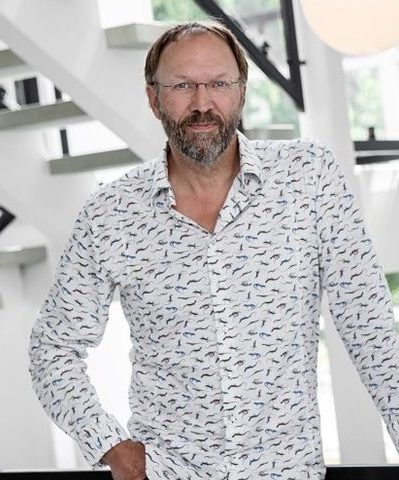 September 2020:
New Vibro-I Flex Unit
SANI Membranes' newly released Vibro-I Flex unit is designed for almost any microfiltration & ultrafiltration application for pilot trials and small scale production. The unit offers an improved microfiltration since it is now possible not only to operate the unit in Mix flow but also in Batch mode which is especially useful in microfiltration applications ensuring perfect continous microfiltration at extremely low transmembrane pressure (e.g. 0.05 bar).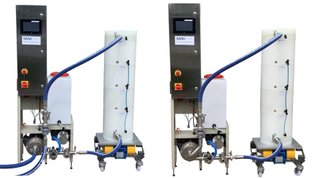 September 2020:
Vibro-I in long term Side Stream MBR trial at Wastewater plant
Vibro-I proves to be robust by passing a long term trial in a harsh environment. The goal of the test was to show that the unit can replace a traditional submerged MBR in wastewater plants
The Vibro-I pilot unit has successfully been running 24/7 for nearly 3 months in a Side Stream MBR application at a wastewater treatment plant in Denmark without any failures. The Side Stream MBR function showed promissing result with exellent fluxes, very low energy consumption and long running time between CIP cycles.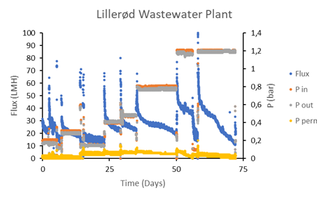 April 2020:
Vibrating Plate Heat Exchange Assembly and Device
Our Free Flow plate design can also be used in Forward Osmosis applications and is even Patented as a Heat Exchange device as both side of the membrane is fully flushable. When configured as a heat exchanger the membrane is obviously not permeable but can be very thin and thus have high temperature exchange efficiency.
To increase the efficiency when working as free flow plate heat exchanger the unit can be combined with the patented Vibro® Technology and in this way, the k-value – or efficiency of the heat exchanger will increase significantly, as strong turbulence is induced directly on the heat exchange surface through the vibro-function. As the vibro function only use energy on surface turbulence, the energy consumption is minimal so a very energy efficient Vibro heat exchanger can be produced – fully scalable to very large units, and with all parts in polymeric materials, whereby it is suitable for sanitary purposes and can be used with highly corrosive media.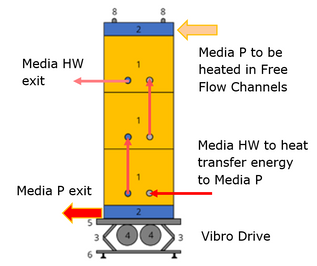 April 2020:
8 Vibro-I units ready for Shipment 
SANI Membranes is readying 8 Vibro-I unit (120 m²) for shipment for a Biopharma customer.
We soon have Vibro-I units present on 3 continents.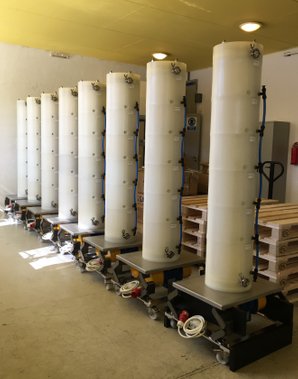 March 2020:
Vibro-I passes long term trial
Vibro-I Membrane Filtration unit proves to be robust by passing a long term trial in harsh environment.
The Vibro-I pilot unit has successfully been running 24/7 for nearly 3 months at a wastewater treatment plant in Denmark without any failures.
SANI Membranes can also celebrate that one of first units we delivered 2½ years ago to a Danish biotech customer is still in operation and the membranes have yet to be replaced.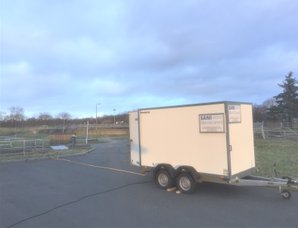 December 2019:
SANI Membranes recieved a lot of interest and attention at the recent AlgaEurope2019 in Paris.
SANI Membranes microfiltration and ultrafiltration solutions will be a major contribution in moving algae production from small scale to industrial scale farming as our Vibro® Filtration solution is functioning extremely well in micro algae harvesting and in the algae product refining processes.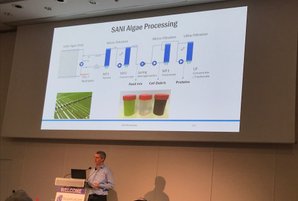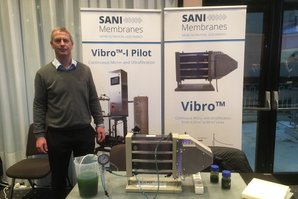 December 2019:
SANI Membranes is exhibiting and presenting at AlgaEurope2019 in Paris.
We look forward to seeing you for a conversation about algae harvest, concentration and purification.
Henrik Hjelmsmark (CEO at SANI Membranes) is presenting at the conference at Wednesday 4/12 at 10:00. The title of the presentation is: Vibro® microfiltration and ultrafiltration for algae harvest, concentration and refinery.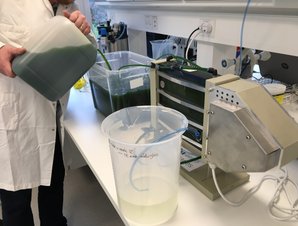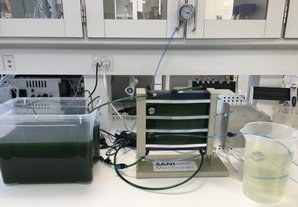 October 2019:
New Microfiltration and Ultrafiltration Pilot line from SANI Membranes
SANI Membranes have launched a line of flexible plug-and-play Vibro-I membrane filtration pilots, delivered with virtually any commercially available organic microfiltration or ultrafiltration membrane. The membrane modules can be exchanged to another set of microfiltration or ultrafiltration modules in less than 15 minutes.
The application area is extremely broad covering virtually any known application within microfiltration and ultrafiltration, e.g. using ultrafiltration for concentration of viscous dairy at 4 bar and using microfiltration for clarification of fermented beverage at 0.1bar.
The Vibro-I Pilot design is simple but extremely flexible and can be customized to your choice of functionalities, automation, instrumentation etc. The Pilots are all with intuitive and with easy-to-use controls, delivered from manual to fully automated, on a stainless-steel frame or as flexible elements on PP frames.
The Vibro-I Pilots comes in a basic version and in a GMP, FDA and EC 1935/2004 compliant version for food, pharma etc.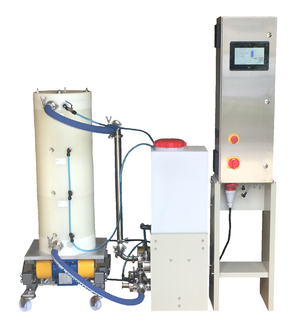 A semi-automated 7.5 m² Vibro-I Pilot with 35L PP CIP tank. The unit is FDA and EC 1935/2004 compliant.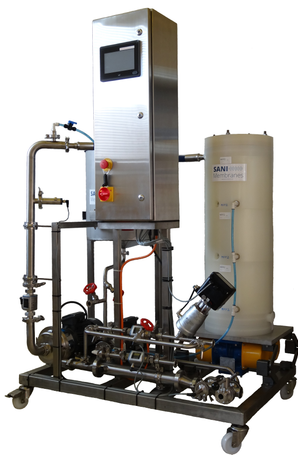 An automated 7.5 m² Vibro-I Pilot with a 50 l stainless-steel CIP/feed tank, heat exchanger and automated concentration factor regulation on a stainless-steel frame. The Pilot is GMP, FDA and EC 1935/2004 compliant.
June 2019:
Skim Milk concentration test with a 7.5 m² Vibro-I Pilot
120 l Skim milk was concentrated to a permeate/retentate ratio of 4.62 in 2 hours at 2 bar with a 7.5 m² 30kDa PES membrane Vibro-I Pilot.
The pressure loss in Vibro-I system was low – Low Energy Consumption
The system can be CIP cleaned and has no membrane spacers – Sanitary
The absence of a crossflow pump gave less pump shear – Better Product
Read the full story as a White Paper by clicking the download link below.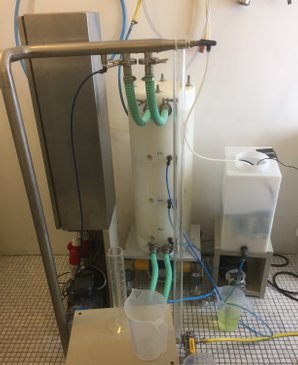 March 2019:
First big Pharma – GMP order of Vibro-I's ready for shipment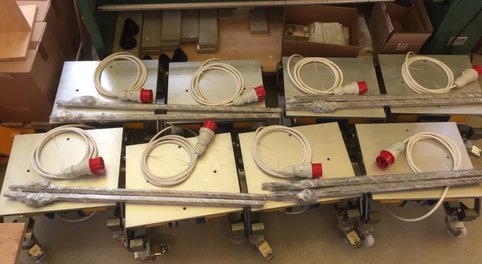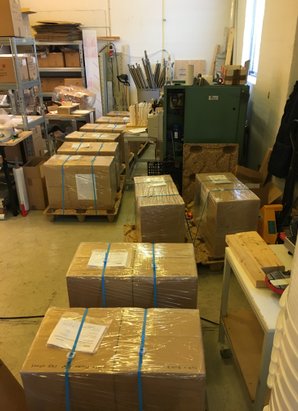 November 2018:
Vibro-L wins the FoodTech Award
The Benchtop Membrane Filter Vibro-L from SANI Membranes won the prestigious FoodTech Award on the FoodTech 2018 exhibition as the most innovative and overall relevant new product for the food & beverage market.
The Vibro® technology combined with the Free Flow Plates really moves the foundation of membrane filtration opening up for Blue Ocean opportunities in several application. SANI Membranes supply benchtop solutions as well as industrial Vibro-I units as smaller systems and larger systems through system builders.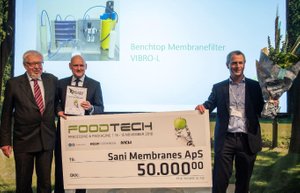 Pressemeddelelse 10-10-2018
Vibro-L er en unik benchtop filtreringsløsningen nomineret til FoodTech Award 2018
SANI Membranes har udviklet en sand trestjernet verdensnyhed i den disruptive og kompakte Vibro-L til udvikling af mikrofiltrering og ultrafiltreringsprocesser.
Vibro-L
Vibro-L er en 0.35 m² benchtop løsning til kontinuerlig mikro og ultrafiltrering i laboratoriet. Vibro-L er et alternativ til alt fra engangsfiltre til sanitære cross flow anlæg og kan opereres med helt uniformt transmembrantryk. Hele membranarealet er som noget nyt synligt under filtreringen, hvilket giver et helt nyt indblik i både filtrerings- og vaskeprocesser.
Vibro-L er med dens membranareal på 0.35 m² en revolutionerende nyhed til udvikling af kontinuere mikro- og ultrafiltreringsprocesser på prøvestørrelser fra 1 liter og opad. Den udviklede proces kan direkte overføres til de industrielle Vibro-I enheder til sanitær filtrering i ekstremt energieffektiv industriproduktion.
Vibro
®

Teknologien

Den patenterede Vibro® teknologi skaber den nødvendige renholdende turbulens på overfladen af membranerne ved at vibrere membranelementet i forhold til mediet. Dette gør at Vibro-L kan køre kontinuerlige filtreringer på medier hvor engangsfiltre og 'stirred cells' hurtigt stoppes til.

Kontinuerlige filtreringer køres normalt i et cross flow system, hvor den nødvendige renholdende turbulens skabes af et hurtigt flow over membranoverfladen. Dette nødvendiggør en energi-krævende og hurtig recirkulering af mediet hvilket ofte skader produktet.

Vibro® teknologien eliminerer behovet for en hurtig recirkulering, og muliggør dermed et enkelt design, hvor mediet koncentreres til den ønskede koncentration ved bare én passage af systemet, og uden at mediet ødelægges af en recirkulationspumpe. Både permeat og retentat er fuldt drænbare, så der er ingen produkttab selv ved mindre tests.
Membraner
Vibro-L anvender SANI Membranes nyudviklede Free Flow Plate™ membranelementer. Membranelementerne er udviklet med et sanitært fokus og er ekstremt energieffektive. Membranen svejses til overfladen af polymer Free Flow Plates, som derefter svejses sammen, og danner Free Flow Plate™ membranelementerne med alle deres funktionaliteter.
SANI Membranes har membranelementer til Vibro-L med membraner med porestørrelser fra 5000 Dalton til 10 µm i forskellige materialer fra flere producenter af sanitære membraner. Membranelementerne kan nemt CIP rengøres i systemet og membranen kan genbruges igen og igen. Det er også nemt at skifte fra en membran til en anden, så Vibro-L kan benyttes til flere forskellige filtreringsopgaver på samme arbejdsdag.
SANI Membranes på FoodTech 2018
Vibro-L er nomineret til FoodTech Award 2018 som en trestjernet verdensnyhed og bliver under FoodTech 2018 demonstreret på stand M9674, hvor den også kan bestilles til en favorabel messepris. I øvrigt fremvises de industrielle Vibro-I enheder til sanitær mikrofiltrering og ultrafiltrering.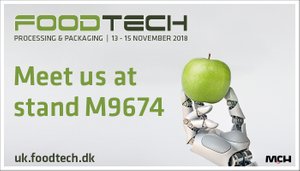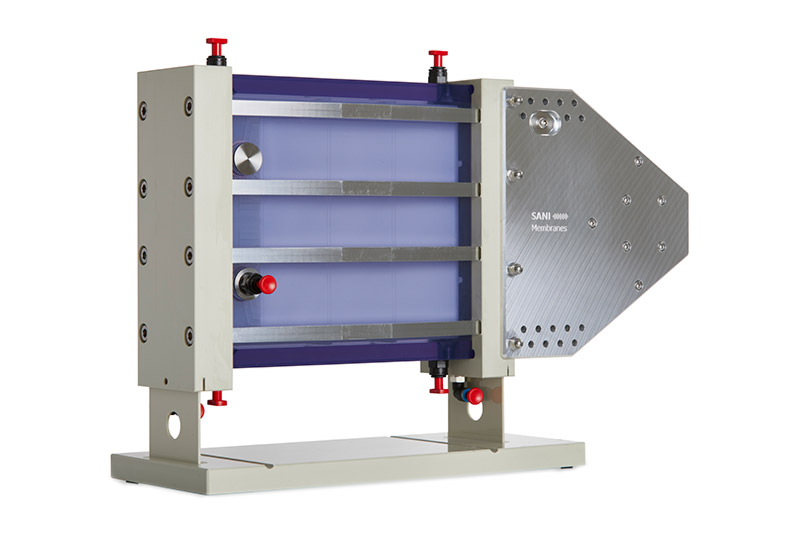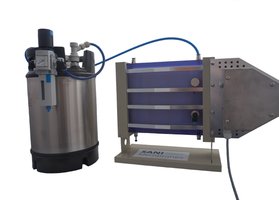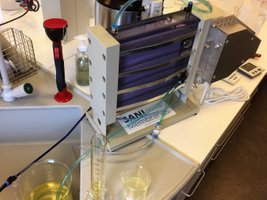 September 2018:
Sani Membranes will exhibit at FoodTech 13 -15 November 2018 in Herning after the great succes at Labdays in Copenhagen and IFAT in Munich.
SANI Membranes will show the new 0.35 m² benchtop Vibro-L at a special indroduction offer and our industrial microfiltration and ultrafiltration solutions at FoodTech 13 -15 November 2018 in Herning.
Please come by our booth (M9674) to see our Vibro-L in action and our new disruptive microfiltration and ultrafiltration solutions for all applications.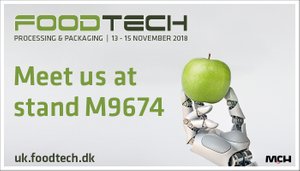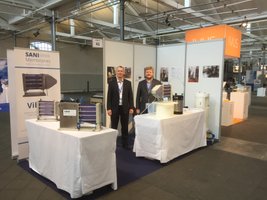 July 2018:
SANI Membranes performed a large pilot test with a 15 m² Vibro
®

unit and a 15 m² cross flow unit in dairy applications

SANI Membranes performed a comparative pilot test of a 15 m² Vibro® unit and a 15 m² cross flow unit at a large Scandinavian dairy.

Different dairy applications were tested and the outcome showed good results, both for the Vibro® unit and the cross flow unit.

Please contact us for more information.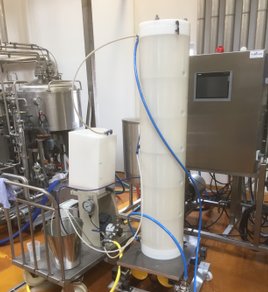 May 2018:
SANI Membranes are introducing the Vibro
®

technology

Vibro® is a disruptive new continuous microfiltration and ultrafiltration system that eliminates the need for a fast cross flow pump.

Vibro® is the perfect filtration solution for process development and industrial filtration applications where low energy consumption, high flux, sanitary function, low capital investment and gentle filtration are key words. Vibro® systems deliver low fouling continues filtration where the filter is kept clean by vibration shear.

Vibro® comes in a benchtop version with 0.35 m² membrane area and an industrial version with up to 60 m² membrane per unit.

Please see the technology, download and product sections for more information.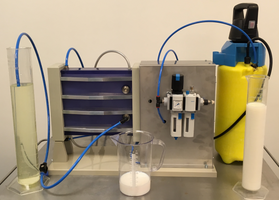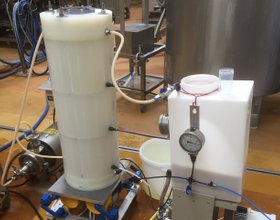 August 2017:
1st Full scale plant for protein harvesting and protein fractionation under construction
After several successful pilot trials with pharma customers the first full scale commercial plant dedicated to protein harvesting and protein fractionation is under construction. The 20 m² plant operates at a very high sanitary level and is 100% drainable of both permeate and retentate compartments. The Hollow Plate™ design gives you a uniform TMP (sharper cut-off), more valuables (drained retentate and permeate volume) and less cleaning downtime than other membrane element designs.
Please contact us for more information on pharma applications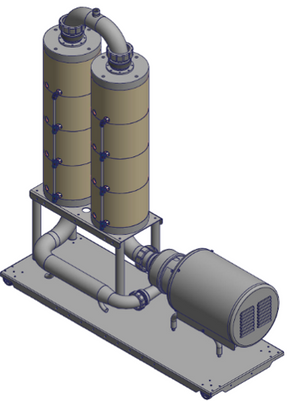 August 2017:
1st Full Scale SANI Membranes Plant up and running
In June 2017 SANI Membranes first full scale plant was put into operation. The plant is installed at the Gladsaxe Gymnasium swimming pool and consists of 2 microfiltration loops and 1 ultrafiltration loop with a total of 180 m² membrane. The plant can be remote controlled but normally it runs 100% automated 24/7 including low intensity night programs, cleaning cycles, retentate dumps etc.
Link to Dansk Svømmebadsteknisk Forenings newsletter (in Danish)
Please contact us for more information on swimming pool filtration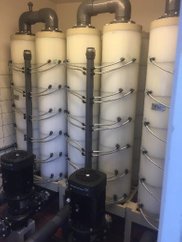 August 2017:
SANI Membranes Participated in the Membrane Technology Forum 2017
Founder and CEO Henrik Hjelmsmark participated in Membrane Technology Forum 2017 in Minneapolis, Mn, US. Henrik gave the talk 'New Flatsheet Hollow Plate Filter Element' presenting the Hollow Plate™ technology to the 300+ participants, primarily from the dairy business.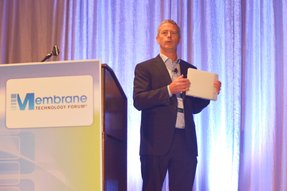 April 2017:
FIRST INDUSTRIAL SIZE PLANT UNDER CONSTRUCTION
SANI Membranes will have the first larger installation up and running in May 2017.
A 180 m² Hollow Plate™ plant for swimming pool filtration is installed in the Copenhagen area.
The plant is in 3 loops of 60 m², build up by HP1 modules, and the design allows  for various membranes to be used.
A smaller pilot have been running successfully since May 2016, and this larger installation will replace an old sand filter unit in a public pool.