Algae
SANI Membranes is a trusted partner for filtration processes in the algae industry
The Vibro® technology makes it possible to optimize several separation processes within the algae industry. Centrifuges, hollow fibers, ceramic membranes and other separation techniques can be replaced.
Harvest to high concentration – Replaces complex separators
Reusable permeate – Cell free permeate
Gentle product handling – Ideal for fragile algae
Eliminating manual work – Fully automated
Minimal energy consumption – Up to 95% energy reduction
Filtration of algae
In algae manufacturing and processing, filtration is commonly used for harvest and concentration. But with an efficient filtration solution, you can combine bulk harvesting, thickening and dewatering into one single process – Replacing several processes incl. flotation, gravity sedimentation, centrifuging and more. An efficient solution can even handle the processes of separating algae debris and protein, as well as protein concentration.
Algae are being used to manufacture anything from biofuel to fish feed to pharmaceuticals to human food, and being at the centre of biomass production, algae are rapidly increasing in popularity.
Are you in the process of starting up an production? Are you conducting lab work with algae? Or, are you scaling up your algae production? Then contacts us
Access our Downloads and presentation to learn more.
The Vibro
®

Technology is ideal for the following separation steps:
Harvest and concentration of microalgae:
The Vibro® technology makes it possible to achieve a high concentration of algae due to the open and clean design of the Free Flow plates. The technology is easy to access and can be used all the way from harvest of autotrophic algae with re-use of the water to high concentration.
Examples of achievements:
Nannochloropsis up to 190 g/l
Chlorella up to 290 g/l
Separation of algae debris and protein:
The Vibro® technology makes it possible to do an efficient separation of algae debris (after lysis) and protein due to the ultralow and uniform TMP which makes actual microfiltration possible.
Read more about algae processing in the algae presentation under downloads & presentations
Concentration of protein:
The Vibro® technology makes it possible to concentrate protein to very high concentrations due to the open and clean design of the Free Flow plates.
The Vibro
®

technology creates the following benefits
Reduced product shear:
With the Vibro® Technology, turbulence comes from vibrations rather than from a crossflow pump. This reduces product shear to a bear minimum, as well as making it ideal for handling of fragile algae.
Reduced energy consumption:
As the Vibro® Units do not need a crossflow pump, energy consumption can be reduced by up to 95%.
Actual continuous microfiltration:
With the Vibro® Technology, it is possible to do actual microfiltration, due to the low and uniform TMP.
High concentrations, viscosities and solid loads:
Vibro® technology is ideal for membrane filtration of highly concentrated media due to the Free Flow Plate module design with open free flow channels and no spacers.
Industrial Example:
The Vibro® technology is in the following example applied for algae harvest and concentration.
Description:
Algae culture from a pond or a photo bioreactor is processed continuously or as batch with plug flow through a Vibro-I preconcentration system where up to 98 % of the water is removed as sterile permeate. Water can be returned directly to the pond or reactor – often with improved growth as nutrients are kept intact in the permeate.
In the shown example, the algae concentrate from the preconcentration system is further concentrated in two Vibro-I units operated with mix flow (read more about mix flow – gently mixing of the algae concentrate in the units).
The algae harvest is operated continuously, making it possible to operate the pond or reactor at the optimal exponential growth curve. The system continuously produces a highly concentrated product at 11 l/h from a feed stream of 6500 l/h.
Value adding processing and Heterotrophic Algae processes
Further value adding processing, high-end fractionation of homogenized algae concentrate, buffer exchange, and recovery of target molecules in permeate can be performed according to the application at hand. One of the relevant processes is described under Biotech.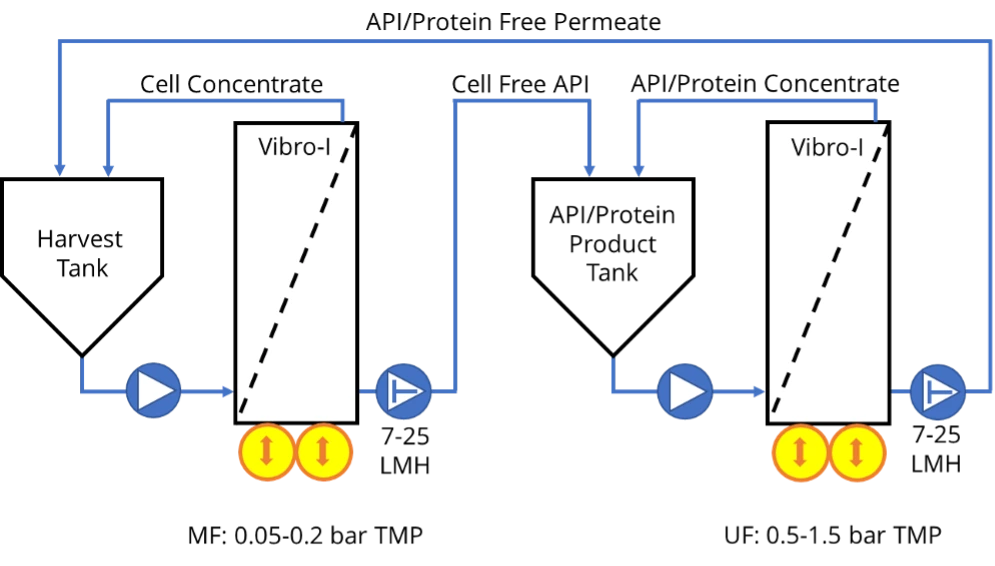 From lab scale to production, we serve you all the way
Request demo
Please fill in your contact information if you are interested in receiving a demonstration of the Vibro®
When filling in the data form, you accept receiving digital communications from SANI Membranes. In order to withdraw your acceptance, please contact info@sanimembranes.com